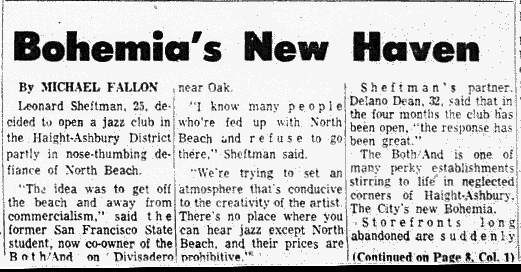 It wasn't until day the third day of Michael Fallon's 1965 article series for the San Francisco Examiner that hippies made front page news. The story was printed below the fold, but was front page news none the less. The headline, Bohemia's New Haven, was putting it lightly, considering what was to come. The diaspora of hippies from North Beach to Haight Ashbury was becoming real, and the prices had everything to do with it.
The anthropological feel of the writing gets more serious with the topic of "Art vs Commercialism," which certainly created a bifurcation that stays with counterculture to this day. A distinction is made
between artists and hippies – the artists are portrayed as having little desire to be around hippies.
"None of us are beatnik types. We all work 12 hours a day and are serious about art. Hippies I don't want. Doctors are my customers," said Sylvia Clark, 29, owner of Unicorn Pottery at 533 Haight. That address is now home to "nothing-fancy" Estrella Taqueria.
Here is the article, after the jump to page eight, and below that is the front page of  the San Francisco Examiner for September 7, 1965.
Here is the full cover of the day's paper for September 7, 1965.