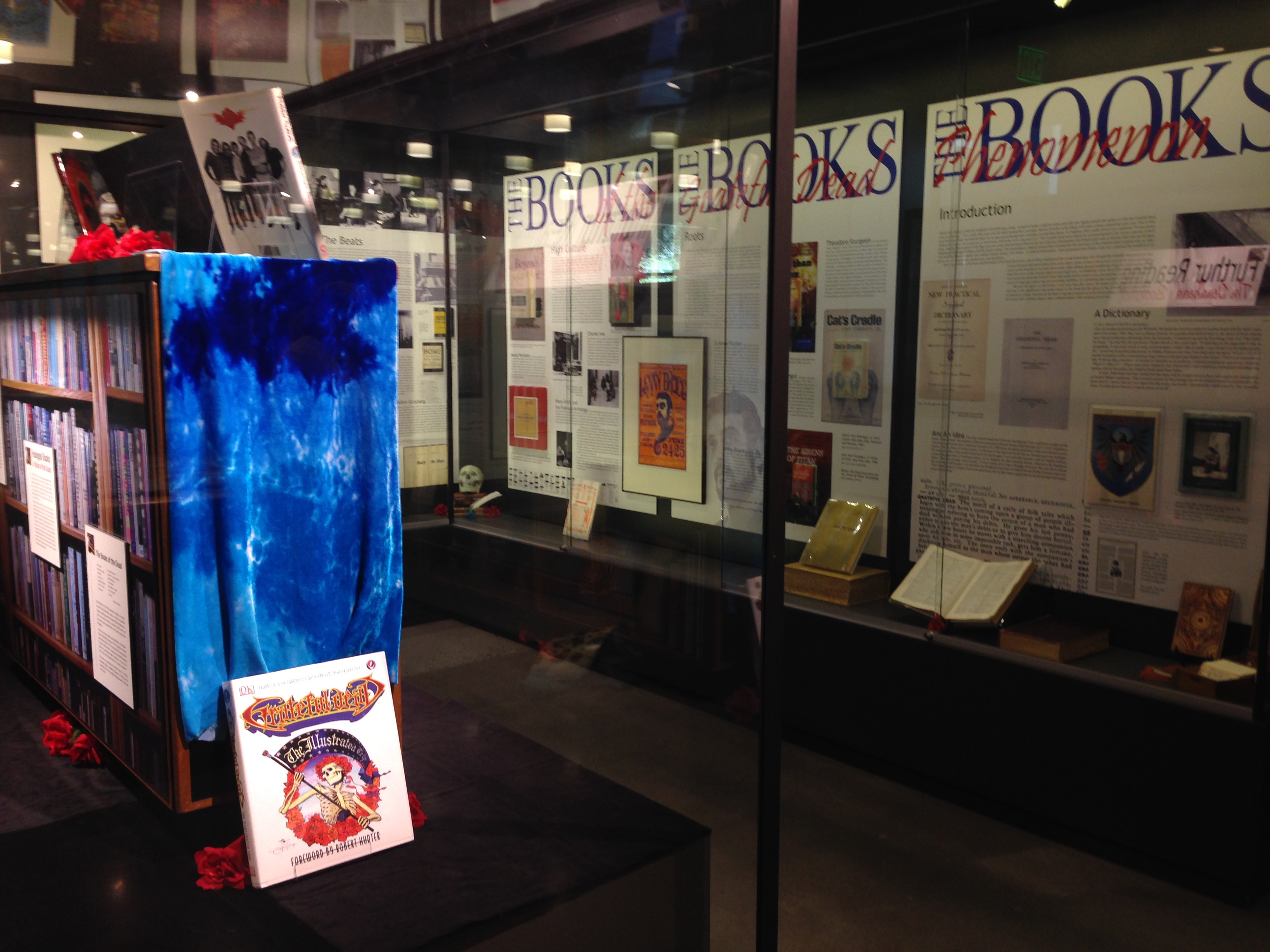 Little Hippie recently had the pleasure of meeting Grateful Dead Archivist Nicholas G. Meriwether while visiting the Grateful Dead Archive at University of California at Santa Cruz.
The Grateful Dead Archive is located in McHenry Library on the beautiful campus. Archive materials are on display in the Brittingham Family Foundation's Dead Central Gallery on the 2nd Floor of McHenry Library and the Dead Central exhibit space is open during all library business hours. You can find directions to the library on their website.
The exhibit on view through the end of 2015 features an in depth examination of the literary and storytelling tradition and influence of the Grateful Dead. From the band's relationship with Jack Kerouac to learning improvisation from Lenny Bruce, and the writing and interdisciplinary work of each band member, there is a rich history uncovered in the bustling corridors of academic study.
In the coming days and weeks we will be posting about all the interesting things we learned from our new friend Nicholas G. Meriwether, who curated the exhibit and is also the editor of Reading the Grateful Dead: A Critical Survey, which is a great read to truly delve into this topic. Via Amazon:
Since the 1960s, the Grateful Dead have welcomed and participated in academic work on the band, encouraging scrutiny from a wide variety of disciplinary and theoretical perspectives, from anthropology to sociology. Interest in Dead studies is growing across the country and around the world, and UC–Santa Cruz's Grateful Dead Archive continues to attract a high level of attention.

In Reading the Grateful Dead: A Critical Survey, Nicholas G. Meriwether has assembled essays that examine the development of Grateful Dead studies. This volume features work from three generations of scholars, including a wide variety of perspectives on the band and its cultural significance. From insiders like lyricist John Perry Barlow and longtime band publicist and historian Dennis McNally to well-known Deadhead scholars such as Barry Barnes and Rebecca Adams, the contributors to this volume offer valuable insights into the Grateful Dead phenomenon.

No other Dead book focuses on the growth and development of the discourse, contains such a range of critical approaches, nor features work by luminaries Stan Krippner and Barnes, among others. The four sections of the book describe aspects and approaches to Dead studies, along with overviews of how the discipline evolved and what it comprises today. This collection will appeal to scholars, students, and teachers interested in Dead studies and fans of the band.
Look out for more on this fascinating topic!