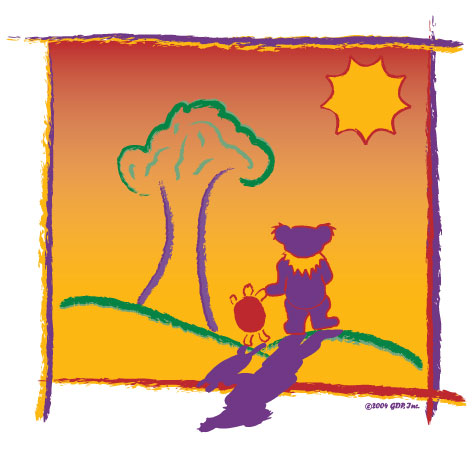 Creating artwork for Little Hippie has been on my list of 'cool jobs I'd love' ever since I bought my first shirt from their booth at Berkfest 2003 in the Berkshires of Massachusetts. This adorable shirt had a picture of Taylor's Grateful Dead bear and terrapin holding hands looking into the sunset. I wore the shirt all the time, so much, always. Two summers later, at Bonnaroo 2005, I scored my first vending job at a booth called Teach Art 2 Me all because my shirt started a conversation.
My background has always been in the arts. From a very young age I've been involved with art, music, and dance, and I have my degrees in sculpture and digital art and design. I'd say I'm pretty "rockstar" at creating colorful and intuitive pieces of art and music that get people feeling. I wandered into Taylor's Little Hippie booth at Bonnaroo that year and told her the story about how her shirt helped me get the ticket and job working at Teach Art To Me. I had been making crafts and selling pottery so she knew right away that I was creative and willing.
As we talked I learned that like me, Little Hippie was based in Connecticut, and that I could be a graphic design intern while I finished my Bachelors Degree in the visual arts and took every music class I could at ECSU in Willimantic, CT.  And that was how it all began!

Over the next four years I worked in the Little Hippie warehouse, traveled with Taylor, and gained a ton of festival vending experience. I not only learned the business, but I became a symbol of it too, a real life Little Hippie prototype, if you will.  Taylor and I experienced a lot of fun on the road together.  There were often challenging moments too, but I don't regret a single day. It may have been the hardest I have ever worked, which taught me early on what it takes to really live the life you are passionate about.
Working from 2006-2009 with Little Hippie helped me to build a foundation of strength in my life. From the perspectives as both a vendor and an artist, I gained a lot of my adaptability, building, spontaneous manifestation, and "make it happen" skills from this work.
In 2011, I sustained a T-10 complete Spinal Cord Injury from a fifteen foot fall from a collapsed tree house. My life changed in an instant, but I felt totally loved and supported while I healed. The Little Hippie team was at Bonnaroo when I fell, and Taylor spread the word to my old friends in the vendor network.  I felt as though all of my festival family were right there by my side, as you can see in my Gathering of the Vibes video below. During this challenging time of my life I told Taylor that if I hadn't worked for Little Hippie, my experience with my spinal cord injury would be a lot harder physically, emotionally, and mentally.
After a year of healing, I was ready to get back out in the world and start creating again.  Taylor visited me several times throughout my recovery, always encouraging me to adventure with my new wheels. (See one of our adventures below in my "Laurie's return to the Gathering of the Vibes" youtube video). I was living in New Jersey with my brother and his family, and after my first couple solo outings locally, I gained the confidence to take the train in to New York City, thereby beginning a series of Manhattan lunches with Taylor where we rekindled our enthusiastic brainstorms together. I had turned to art as therapy that year, and Taylor opened the door for me to contribute art to Little Hippie.
Working with Little Hippie again as a creative contributor has been great!  My art is now a part of the
company I helped get off the ground, and my spirit continues to guide the company ethos.  I've so loved reconnecting with the people I knew during my time on the circuit, and I am excited to continue designing for this crowd.  Most importantly, I am super passionate about representing the spirit of music festivals, the family aspect of chosen community, and raising the vibration of the planet through our good intentions. I love that Little Hippie shares my ambitions and that we HAVE to work as a team to create everything we do. I am also currently doing all the posting for our Instagram, Facebook, and Twitter accounts which has been a fun learning and growing experience.
My artwork for the Magnolia Blossom Steal Your Face was inspired by the Grateful Dead's 50th Anniversary tour last year. I wanted to create something special and I have always enjoyed the music. The song "Sugar Magnolia" may be a popular Grateful Dead song, but to me, the lyrics are often a visual experience. From this song, these lines inspired my artwork :
"Sugar magnolia, blossoms blooming, Heads all empty and
I don't care"
"Sweet blossom come on, under the willow…we can have high times if you'll abide"
This art is currently available on a blanket and will soon be available on apparel for girls and women.
I had a lot of fun creating this piece for Little Hippie and I hope to see many of you with it dancing in the sunshine. Sunshine daydream!
My love and Gratitude ~ Laurie