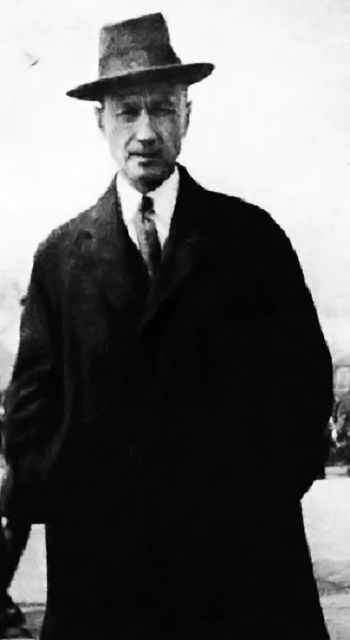 You've probably heard about what it is to struggle to be an artist. Some have struggled pretty hard, including a music composer named Charles Edward Ives (left), who was largely ignored during his lifetime (1874 – 1954). This had a major impact on the Grateful Dead's Phil Lesh.
"Phil was going to college of San Mateo at the time and Charles Ives became a major touch stone for him or metaphor for this is what the kind of sacrifice you should make for your art beyond the tragic vision gave him the sense of art for art sake," archivist Nicholas G. Meriwether told LITTLE HIPPIE at the Grateful Dead Archive at UC Santa Cruz.
Lesh played trumpet in and wrote for the school's big band, a snippet of tape of Lesh on trumpet in college can be heard on "Born Cross-Eyed" from the Grateful Dead's 1968 release Anthem of the Sun, according to Wikipedia, which also tells us:
Charles Edward Ives was an American modernist composer. He is one of the first American composers of international renown, though his music was largely ignored during his life, and many of his works went unperformed for many years. Over time, he came to be regarded as an American original. Ives combined the American popular and church-music traditions of his youth with European art music, and was among the first composers to engage in a systematic program of experimental music, with musical techniques including polytonality, polyrhythm, tone clusters, aleatoric elements, and quarter tones, foreshadowing many musical innovations of the 20th century.

Sources of Ives' tonal imagery are hymn tunes and traditional songs, the town band at holiday parade, the fiddlers at Saturday night dances, patriotic songs, sentimental parlor ballads, and the melodies of Stephen Foster. (Wikipedia)
Ives had no idea he also went on to influence one of the greatest bands of all time, but you can go ahead and read about his life through these materials and check out the video below, Leonard Bernstein conducts Ives' Second Symphony with the Bavarian Radio Symphony Orchestra in 1987.