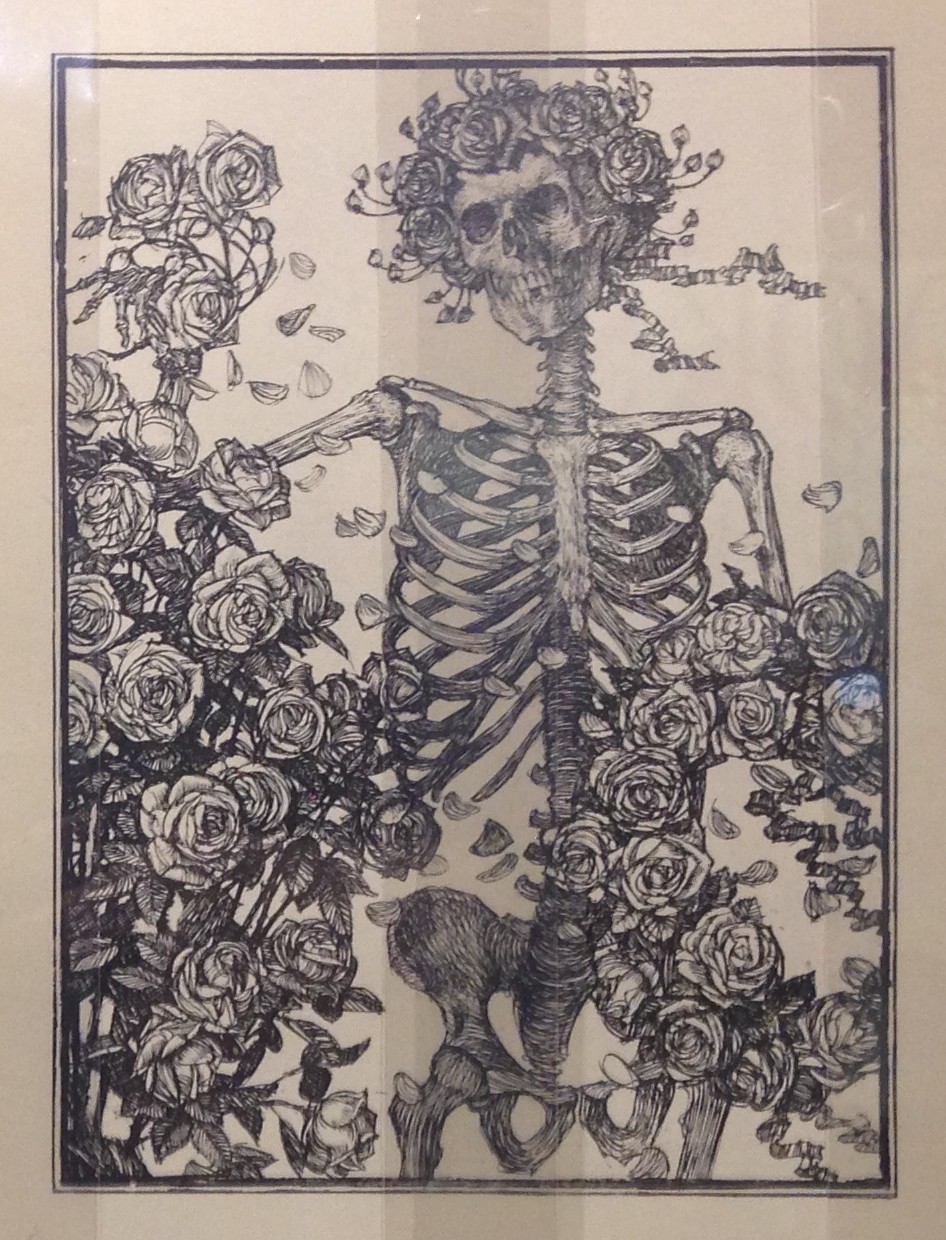 "Stanley Mouse and Alton Kelley always claimed that they photocopied that book, they didn't, they cut it out with a pen knife. So this is not that copy," Grateful Dead Archivist Nicholas G. Meriwether told us, looking over a medieval era art book (right) on view at UC Santa Cruz, "but that's the way they got it and low and behold they did a beautiful job turning it into a poster.
Stanley Mouse and Alton Kelley appropriated the bones and roses as they saw fit (below) for the Grateful Dead and made their names creating gorgeous pieces of art for many of the era's top headlining acts.
According to Alton Kelley's 2008 obituary in The New York Times, "Kelley had the unique ability to translate the music being played into these amazing images that captured the spirit of who we were and what the music was all about," said the Grateful Dead drummer Mickey Hart. "He was a visual alchemist — skulls and roses, skeletons in full flight, cryptic alphabets, nothing was too strange for his imagination to conjure."
The opposite page from the original bones and roses has a poem:
Oh, come with old Kayyam,

and leave the Wise to talk;

one thing is certain, that life flies;

One thing is certain, and the Rest is Lies;

The Flower that once has blown for ever dies.
Meriwether told us, "The other interesting point that this case makes is, that really, you can view all of the posters of the Haight Ashbury as being leaves in a disbound book.
"It's one of those things that nobody's really talked about yet but as I was working on this exhibit," he continued, about the ongoing exhibit on the literary tradition of the Grateful Dead at UCSC, "it was like really that's the way to look at it because these were essentially the modern equivalent of medieval manuscripts, and low and behold, they did eventually get gathered into books as you can see."
Check out the exhibit in Santa Cruz, California at UC's McHency Library if you're rolling through town. You can also visit the Grateful Dead Archive Online, which is a great resource for all your research questions, and even has a handy milestones timeline so you can learn about important moments in the band's history all in one interactive place. You can also find some cool poster books right over here.