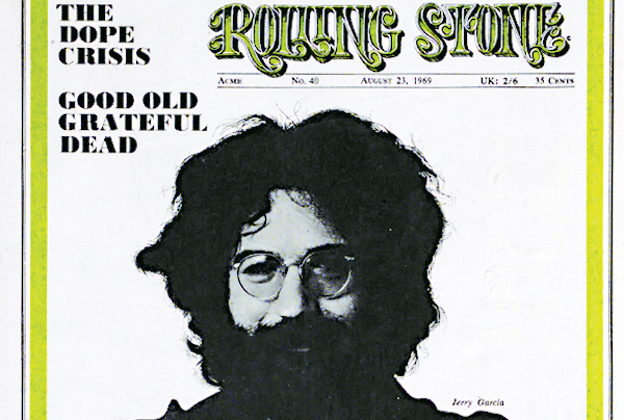 Did you ever want to turn into a fly on the wall, so long as it was in a room where your favorite legend was being interviewed by a great journalist? That's what it feels like listening to Michael Lydon interview Jerry Garcia in an hour long audio clip available on Amazon.
Journalists did the bulk of the work spreading the word and contextualizing the Grateful Dead as they emerged. The Grateful Dead Archive, which we have been thoroughly discussing here at LITTLE HIPPIE, features some of the original articles, prior to their inclusion in surveys and anthologies on the topic of the band.
"Some of the very good early work done on the band was by journalists," Grateful Dead Archivist Nicholas Merriwether told us at UC Santa Cruz. "Michael Lydon's 'Good Ol' Grateful Dead' was Jerry Garcia's all time favorite piece on the band."
These primary sources are collected in the archive's current exhibit with well known titles like Lydon's own 1971 collection Rock Folk: Portraits from the Rock n' Roll Pantheon.
"[Ed] McClanahan, who was a prankster, wrote 'Grateful Dead I Have Known,' that appeared in Playboy," Meriwether continued. "The interesting thing about that is that Lydon's article goes on to be reprinted often in various anthologies. McClanahan ends up getting republished a couple of times, and ultimately in a collection published by the University of Kentucky Press."
McClanahan's Famous People I have Known was published in 2003. He followed up on his original piece in 2014 for The Daily Beast, where he recounted the good old days.
Now, the first time I ever saw Jerry Garcia was in midwinter 1965, in Ken Kesey's house up in La Honda. I'm lounging around Kesey's living room, see, and this extraordinarily curious-looking party comes shuffling through. In point of fact, he's the very first true freak I've ever laid eyes on, this somewhat rotund young man with a hairdo like a dust mop dipped in coal tar, and after he's gone, Kesey says, "That was Jerry Garcia; he's got a rock-'n'-roll band that's gonna play with us this Saturday night at the San Jose Acid Test. Their name is the Warlocks, but they're gonna change it to the Grateful Dead."
"I really thing that is a good metaphor for describing the arc of the counter culture," Meriwether added, "when you go from Playboy to University of Kentucky Press, it's a kind of interesting cultural arc that you see."