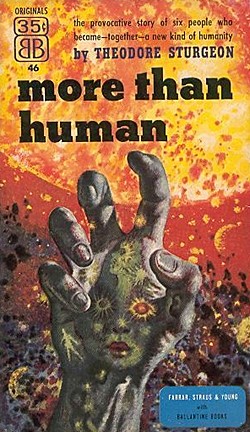 The science fiction writer Theodore Sturgeon's novel More Than Human was a fascinating connection of perspectives in the literary tradition and timeline on exhibit at the Grateful Dead Archive at UC Santa Cruz.
According to Wikipedia, "the novel concerns the coming together of six extraordinary people with strange powers who are able to "blesh" (a portmanteau of "blend" and "mesh") their abilities together. In this way, they are able to act as one organism. They progress toward a mature gestalt consciousness, called the homo gestalt, the next step in the human evolution."
"[The Grateful Dead] all love science fiction and they really had a tremendous sense of how science fiction writers were thinking about ideas that were a big part of the counter culture," Grateful Dead Archivist Nicholas Meriwether said at UC Santa Cruz recently, "So Theodore Sturgeon is the guy who gave them their idea for how they wanted to improvise and collaborate on stage.
"
Improvisation in jazz and blues and bluegrass – the three traditions that they were coming from – were really all based around one person solos and the others all comp. The Dead as we know is everyone soloing simultaneously, doing interesting things. So that was their metaphor – and you know LSD helped."
So the Dead were in tune with Sturgeon's ideas, Jerry was transcribing Lenny Bruce, and coming up, more on how Kurt Vonnegut and Jack Kerouac figure into the timeline.