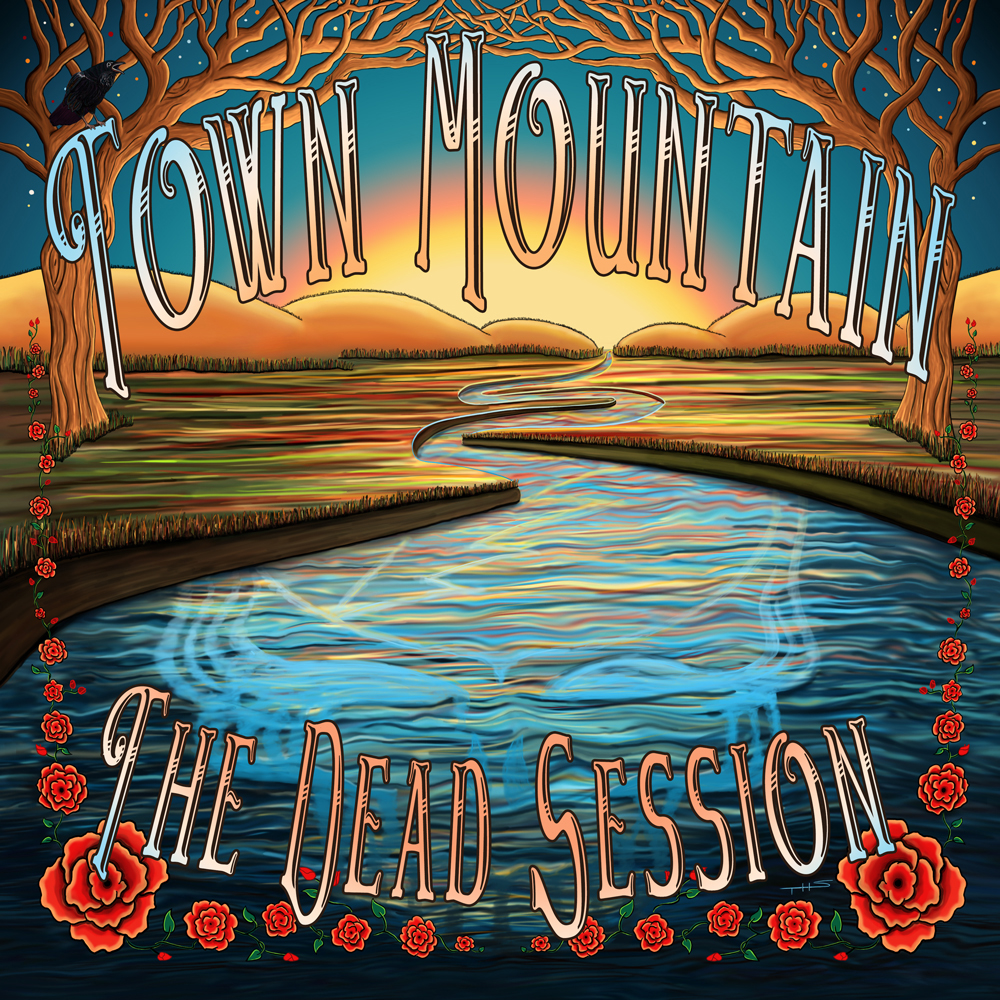 In case you haven't heard, Town Mountain are set to release renditions of two Grateful Dead Tunes to honor the Grateful Dead's 50th Anniversary. Town Mountain recorded bluegrass versions of two of their favorite song performed by the Grateful Dead: "Mississippi Half-Step Uptown Toodeloo" & "Big River" the album is out Friday, November 13, 2015. I was lucky enough to design the cover art.
Like everything should, this project started with a basic sketch; the original concept was a raft on a river with a couple of characters, though we weren't sure yet which characters. Then decisions get made, and so does progress.
Eventually we decided no raft, no characters – they wanted something old timey, but vibrant, evocative of the Grateful Dead without infringing on copyright. A river with a sunset and some roses was all they new for sure they wanted to be included. Such is the conversation with any client with a vision that lacks detail. From there, a collaborative project grows.
It's all about experimentation with this kind of illustration work. For this crew, the evergreens were wrong for the Mississippi landscape, so I changed the trees and played with a few ideas for where to place elements. Once the band decided which elements they'd like included, I moved from sketching to Photoshop, using gradients to block in the color and then some Camera+ filters on my phone to find a more appropriate palette, assuring them that by the time we were done the gradients would be filled with detail and that the overall look would evolve.  It's easy to lose faith at this stage, and I always struggle to convey what I can see in my head.
With the scene set, I began filling in the details, but the last one came from Martin Anderson at WNCW North Carolina who suggested the Raven. (Side note: WNCW is an awesome station – one of the few good public radio stations left and totally worth streaming from afar. WNCW is a major force in the Appalachian music scene and they do a lot to publicize music in that area. Asheville has a really active music community and although WNCW isn't an Asheville station, the two are pretty intertwined.) I think the band went to talk with Martin one day about the upcoming release and showed him the art in progress, and he suggested a raven. There is a lyric in the Grateful Dead's Uncle John's Band that goes, "It's the same story the crow told me; it's the only
one he knows."
Also there was this album art once upon a time, so the crow appears here and there in Grateful Dead imagery although it never quite caught on like the icons you already know.
A video and more details on the band and the forthcoming record are below, written in the fabulous press release by Erin Scholze, Dreamspider Publicity, an old friend of mine and another female business owner carving her own way in this scene.
---
Town Mountain to Release Renditions of two Grateful Dead Tunes ~ Bluegrass with Swagger
To Honor the Grateful Dead in the year of the band's 50th Anniversary
Town Mountain recorded bluegrass versions of two of their favorite Grateful Dead songs

Town Mountain: The Dead Session
Features "Mississippi Half-Step Uptown Toodeloo" & "Big River"
Due Out Fri, Nov 13th

"Wow, I like these hard-core acoustic honky-tonk takes on two Grateful Dead favorites!" –David Gans, musician and co-author of This Is All a Dream We Dreamed: An Oral History of the Grateful Dead."

ASHEVILLE, NC — Town Mountain is excited to announce the independent release of Town Mountain: The Dead Session on Friday, November 13, 2015. "Each member of this band has enjoyed the music of the Grateful Dead for quite some time," says vocalist and guitarist Robert Greer. "It seemed only fitting for Town Mountain to pay respect to some musical heroes in this year, their 50th year of existence." They recorded an impromptu set of two of their favorite songs from the Grateful Dead's catalog, "Mississippi Half-Step Uptown Toodeloo" and "Big River" at the widely acclaimed Echo Mountain Recording Studios in their hometown of Asheville, NC.

This is the Grateful Dead done in Town Mountain's hard drivin' style filled with a honky tonk edge and barroom swagger. The resulting sound is touched by Jerry Garcia with Jimmy Martin and John Hartford… Fitting since Hartford played a short stint in Old and In The Way before Vassar Clements filled out the band on fiddle, and Garcia's first instrument was a banjo as he was influenced by bluegrass music throughout his career. Narrowing down to just two was not an easy task for Town Mountain.

"What can I say about "Mississippi Half-Step Uptown Toodeloo"? It's just perfect. Lyrically it's amazing," says banjoist Jesse Langlais. "Robert Hunter can be so descriptive yet so vague in the point he's trying to get across. Which is great for the audience because it allows listeners to choose what they want the song to be about. In my opinion that's what a good songwriter does. He leaves the song open to interpretation."

Langlais says, "Musically, Mississippi was extremely fun to play with exciting changes and a lot going on melodically… almost like there's two songs in one. On the original studio version of this song Vassar Clements plays fiddle. Bobby and I tried to mimic the interplay that Jerry and Vassar had on it. This is just an amazing song, and and it made sense for us to record it because it had a bluegrass master involved. We adopted it into Town Mountain's repertoire without changing the integrity of the song."

"Mississippi Half-Step Uptown Toodeloo" was written by Jerry Garcia and Robert Hunter and originally released on Wake of the Flood in 1973. It was performed over 230 times live by The Dead over the years and the song was also the second set opener of the second night of the Fare Thee Well shows in Santa Clara this year.

"Big River" was written by Johnny Cash in 1958. But true to The Dead's fashion they would take other people's songs or traditional songs and make them their own. They had a knack for finding covers that were transcendent of the original artist and they played it in almost 400 live performances.

"We've always liked their version of country music. Even their original albums we're steeped in that sound. Workingman's Dead is full of country music influence," explains Langlais. "The Dead kept the sentiment of 'Big River' but translated it to make an audience, who may not have known what country music was, love it. That audience for them was typically a younger more rock or jam influenced fan but they still ended up knowing the song and singing along." "Big River" fits right into Town Mountain's sound and wheelhouse.

The core of Town Mountain is Robert Greer on vocals and guitar, Jesse Langlais on banjo and vocals, Bobby Britt on fiddle, Phil Barker on mandolin and vocals, and Adam Chaffins on bass (Adam is featured on "Mississippi"). Evan Martin plays drums on both tracks. Jon Stickley fills in on bass and guitar in "Big River" and Jack Deveroux lays down the pedal steel on "Big River."

For the cover art, Town Mountain turned to long time Grateful Dead artist Taylor Swope. Taylor has been creating official Grateful Dead art since the former VP of Grateful Dead Productions discovered her in a parking lot at a show in 2003 and offered her a license on the spot. Her work has become iconic in it's own right, having become widely associated with the generations of Deadheads who have grown up in the wake of Jerry Garcia's passing.

Riding the wave of excitement that followed Fare Thee Well where her poster was one of only four featured at both stadiums, and sharing Town Mountain's deep appreciation for American roots music, Taylor says she "thoroughly enjoyed creating this image. I am obsessed with swimming and water in general, so when Town Mountain asked me to draw them a river with a Steal Your Face, it was a natural fit."

Town Mountain is no stranger to playing covers, and what has become one of the group's more memorable live performance songs is their version of Bruce Springsteen's "I'm On Fire," which they first recorded in 2008's Heroes & Heretics. Town Mountain's version "I'm On Fire" has reached over 1 Million listeners on Spotify and has garnered over 430,000 views.

Town Mountain is also prolific in songwriting; each member contributes their well-supplied vat of original material. They've been finalizing their next studio release which was produced and engineered by GRAMMY winner Dirk Powell in his studio, The Cypress House, in south Louisiana. For a sneak peek at what to expect on the future album, watch the band perform a new original song, "Wildbird," in this wonderful session filmed by Hype Music Festivals at the 2015 Suwannee Springfest in Live Oak, FL → http://bit.ly/Wildbird_byTownMountain_HYPE. Also this: