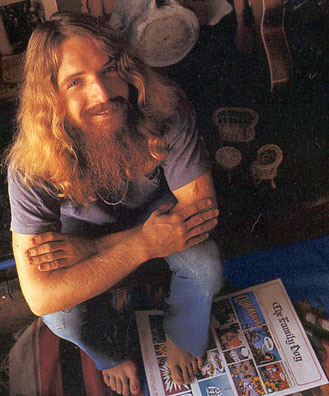 Next year, 2016, will be the twenty fifth anniversary of the much-too-soon passing of famed poster artist Rick Griffin. Like too many good people, he lost his life in a motorcycle accident in Petaluma, California. He was truly a California Nature Boy, surfing his way up and down the coast.
Surfing led Rick to illustration, and his first surfing comic strip 'Murphy,' appeared in Surfer Magazine in 1961. A major contributor to the underground comix movement, Rick became one of the leading psychedelic poster artists of his time.
In 1964, he left Surfer and briefly attended Chouinard Art Institute (now CalArts), where he met his future wife, artist Ida Pfefferle. That same year, he hung out with the group of artists and musicians known as the Jook Savages. He traveled with Ida on a Mexican surfing trip and later planned a move to San Francisco after seeing the psychedelic rock posters designed by Stanley Mouse and Alton Kelley. In late 1966, the couple arrived in San Francisco, where they first lived in their van before moving to Elsie Street in the Bernal Heights district. In the mid-1960s, he participated in Ken Kesey's Acid Tests. His first art exhibition was for the Jook Savages, celebrating the one-year anniversary of the Psychedelic <br />Shop on Haight Street. Organizers for the Human Be-In saw his work and asked him to design a poster for their January 1967 event. Chet Helms was also impressed by Griffin's work and asked him to design posters for the Family Dog dance concerts at the Avalon Ballroom, which led Griffin to create concert posters for the Charlatans. In 1967, Griffin, Kelley, Mouse, Victor Moscoso and Wes Wilson teamed as the founders of Berkeley Bonaparte, a company that created and marketed psychedelic posters. Griffin returned to Southern California in 1969, eventually settling in San Clemente. (Wikipedia)
The Berkeley Bonaparte artists became known as the "Big 5" and have become legendary since their inception, and particularly when Rick joined them, fulfilling his dream to work with such amazing artists. Stanley Mouse was a particular inspiration, and we'll have more on him coming up in this series.
One of Rick's most famous images is the flying eyeball seen on this Jimi Hendrix poster from a Bonham's auction in 2008. From the catalog:
The Winged Eye symbol has its origins in antiquity, appearing in the art of the Egyptians and Assyrians. Rick particularly venerated the late 1950s' version, that of famed lowbrow artist Von Dutch, whose interpretation resonated with the roots of hot-rod culture, so central to Rick's Southern California upbringing. Von's Flying Eye was stylistically informed by traditional American tattooing and car culture and he may also have been exposed to this image as nose art on WWII USAAF airplanes, an art form that influenced decorative automobile art in the post-war period. Rick would also have been aware of the esoteric traditions and origins of the Eye In The Sky, aka The Sun Disc or God's Eye, the all-seeing eye that burns through the clouds of Illusion. As a visual pun it also represents the self (the 'I'), as well as the personal power that comes with spiritual awareness. With added wings, it evokes the effect that LSD had on the visual field, part of the expanded state of consciousness that many were experiencing at that time.

In 1968, when psychedelic posters were an integral part of the Haight-Ashbury scene, The Flying Eyeball and other designs like it were becoming a pervasive influence. Apart from being posted around San Francisco's Bay Area in record stores, bookshops and hip boutiques they circulated nationally, and even internationally, becoming in a sense ambassadors of the counter-culture movement.
A great item to pick up, alongside your Little Hippie gear of course, is this classic book on the poster art of Rick Griffin. The amazon.com page has a preview of the book available, just click the link above. There's also a great slideshow of posters from the era over here at Classic Kicks. Here's a 1969 Grateful Dead classic, by Rick. Rest in peace, friend.